Just Valves services
Audits, testing, calibration, repair & maintenance
Valve Calibration and Testing 
Did you know that Pressure Relief Valves should be tested at least once every six months?
It is recommended that you test pressure relief valves at least once every six months, especially to reduce leakage caused by the build-up of minerals and corrosion. Scheduling pressure relief valve testing every six months enables you to troubleshoot issues and fix them promptly maintaining trouble free operation through out your system.
Calibration & Testing
Our purpose built facilities in Western Australia & Queensland have highly qualified technicians available to provide in-house calibration services. All testing equipment has been certified and calibrated by a UKAS accredited laboratory. 
Australia-wide ON-SITE Calibration & Testing

Just Valves also provides a comprehensive on-site testing and calibration service for Temperature Units, Pressure Units and Pressure Safety / Relief Valves. All tests are carried out in accordance with international codes and in compliance with manufacturers recommended practices.
Our customised 10ft x 8ft containers are designed to support and facilitate safe on-site inspection, testing, certification and calibration. These containers are built to the highest standard to enable a professional and efficient service which can only be achieved by using a controlled laboratory. Further benefit is gained by the fact that Just Valves staff working within the lab are able to function independently from rig workshops, resources and equipment.
Because our PRV containers are self-sufficient this helps ensure a high standard of inspection and maintenance of the pressure relief valves in a controlled environment.
NOTE: All our PRV Technicians are full time employees of Just Valves and are experienced in fluid and air pressure testing with a knowledge of the API and ASME Standards.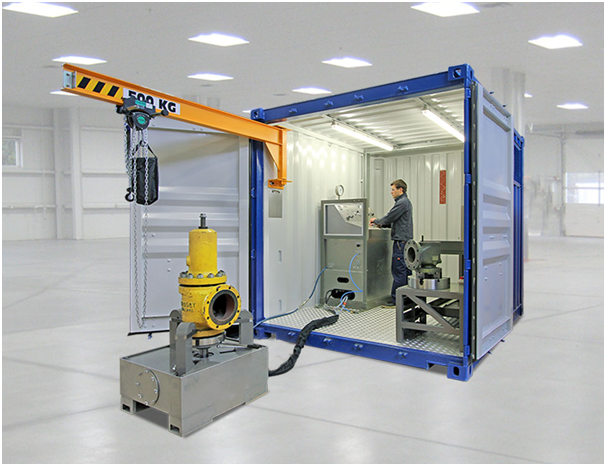 Technology
Our technicians use the latest technology to provide the most accurate equipment calibration. Full certification is provided for all calibrated equipment. Our technicians travel to all sites within Australia.
Calibration includes:
• Temperature (up to 1,200°C)
• Pressure (up to 1,200 bar)
• Flow (up to 2,500 L/min)
Just Valves can test and certify all types of valves:
• Control valves
• Ball valves & actuators
• Pressure relief valves
• Manual valves
Equipment
• Hydrostat test rig
• Leakage test rig
• Relief valve test rig
• Control valve profiler
• Diagnostic software for positioners
• Factory Acceptance Testing
Can't find what you're looking for?