Valves
For all Applications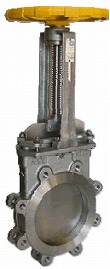 We offer a range of Knife Gate Valves that are recognised in the industry as very reliable at very competitive prices. Our valves are designed for top performance and a long, maintenance free
life time. We offer a variety of product lines including:
We offer a variety of product lines including:
Metal and resilient seated Knife Gate Valves.
Split ductile body Knife Gate Valves.
Slide Gate Valves.
Bonneted Knife Gate Valves.
Fabricated and custom designed Knife Gate Valves.
Solid one piece cast body in corrosion resistant stainless steel.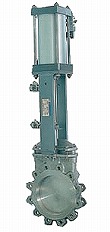 Our Knife Gate Valves are specifically designed and manufactured according to MSS SP81 to meet the worst working conditions in Pulp & Paper, Mining & Steel, Power & Chemical Industries for semi-solids, dry-ash, chips, fiber contents pulps etc. The compact design of the valves facilitate light weight, minimum space for installing and easy operation and maintenance. The compact wedge is manufactured from stainless steel plates of various grades irrespective of body material. The bottom of the wedge is a knife type edge which cuts easily through semi-solid, paste type pulp with possible fiber and/ or solid contents, fly-ash and chemicals with solid contents. It thereby ensure smooth shutdown operation and tight shut off. Our Knife Gate Valves are available in a wide range of materials. Trim options are available to suit individual requirements for various working conditions.
---
Specifications
Size 50mm – 450mm.
Pressure Rating 150# to 600# or PN16 to PN100.
Type AOS & Y.
Operation Wafer / Lugged.
Port Opening Full.
Seat Integral/Renewable Metal to Metal or Soft Seating.
Disc Solid Knife type.
Gasket & Packing PTFE / Graphite/ Asbestos, etc.
Testing API 598.
What is a knife gate valve?
Knife gate valves are designed mainly for on-off and isolation services in systems with high content of suspended solids. The knife gate valves are especially beneficial for handling slurry, viscous, corrosive and abrasive media. The valves have a minimised pressure drop in fully open position, they are easy to actuate, they have a relatively low weight and are cost effective.
Knife gate valves are designed to work in some of the most harsh environments, typically having a sharpened blade to cut through heavy liquids.
They are especially useful in wastewater applications where corrosion is an important issue. So, in addition to the valve design optimised for slurry media, it is beneficial to have a knife made of acid-proof stainless steel as this makes it less susceptible to damages caused by corrosion and as a consequence it needs less frequent maintenance or even replacement.
Knife gate valves should only be used for applications requiring a completely open or completely closed position and should not be used to regulate flow unless they are designed for it. Whenever fluid is forced against a partially closed gate, there will be a vibration, gradually eroding the disc and seat. In addition, the knife gate valves are designed to slowly open and close to safeguard against the impacts of water hammer.
Knife gate valves vs. gate valves 
Both the wedge type gate valves and the knife gate valves are primarily designed for on-off services where the valve is completely opened or completely closed. It is not recommended to use neither of these to regulate flow because when fluid pushes against a partially closed gate vibration occurs, and cavitation will eventually damage the seat and the body. Also, both of the valve types are designed to open and close slowly in order to reduce the risk of water hammer. 
Both types can be used in applications involving: 
Slurries
Heavy oils
Non-flammable viscous fluids
Wastewater
Clean water
One of the differences between the gate and the knife gate valves, is that the knife gate valve often has a sharpened disc to better cut through slurry/viscous media. Also, the knife gate valve has a short face-to-face length compared to a gate valve, which is dimensionally wider. As a consequence a knife gate valve is light weighted compared to the gate valve. These are the main differences and probably two of the biggest advantages of the knife gate valve.
Knife gate valve installations are typically found in wastewater treatment plants, chemical plants, mining, cement plants as well as in many other industrial applications while gate valves are typically found in drinking water mains, distribution networks and drinking water pump stations.
---
Can't find what you're looking for?