Butterfly Valves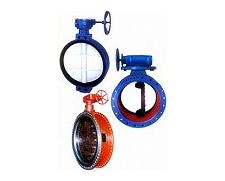 BUTTERFLY VALVES
JV Butterfly Valves, lugged or wafer type, with integrally moulded Elastomer body sleeve are designed for longer life and trouble free performance. The integrally moulded sleeve ensures perfect resistance to friction between disc and sleeve.
Special Features
Integrally moulded Elastomer liner restricts dislocation of seat and ensures longer life.
Flat surface on the disc and the liner at the top and bottom ensures perfect sealing between body, disc and stem.
Elastomer body liner is extended deep into the top and bottom of disc shaft passages with integral 'O' ring to ensure no working media contacts the body material, thus ensures longer life for body.
A primary seal provided at the top end of the body prevents entry of any foreign particles in the valve, thus ensures longer life for stem and smooth operation.
Valve disc is designed to ensure smooth straight through flow, which reduces pressure drop across the valve.
Close tolerance maintained between the liner, disc and stem reduces operation torque and ensures smooth and easy operation.
Integrally moulded liner and integral gasket at both ends of the valve eliminates requirement of Valve mounting gaskets.
Designed and manufactured to conform BS 5155/API 609.
Suitable to mount between flanges with ANSI B16.5 [150#] or BS-10 Table D/E.
Pneumatic and Electrical actuated valves are available on demand.
Top platform of valve is suitable to mount actuator or manual gearbox directly.
Specifications
Size
20mm to 1150mm.
Pressure
Pressure 150# to 600# or PN 16 to PN 100
Available Body Materials
WCB, LCB, WC6, WC9, C12, C5, CF8, CF3, CF3M, CF8M, PVC
Design & Manufacture
API 609, MSS SP-67, MSS SP-68.
Face to Face
ISO5752 of 13th BS 5155, API 609, MSS SP-67, MSS SP-68
End Connection
Wafer / Lugged
Test Standard
API 598, ISO5208, BS 6755
Structure Type
Centre Line Pattern, Double Eccentric Pattern, Three Eccentric Pattern
Actuation
Lever, Gear, Pneumatic, Electric