Valves
For all Applications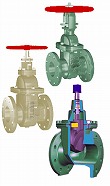 We supply all types of Gate Valves. Both Solid Wedge and Flexible Wedge designs conform to API-600. Pressure ratings are from 150# to 2500# in Cast Carbon Steel, Cast Alloy Steel, Stainless Steel of all grades, and Super Alloy Steel like Alloy-20, CD4MCu and Hastelloy.
JV Gate Valves are equipped with smooth machined full bore and full opening wedge to ensure elimination of pressure drop across the valve. Long screwed-in seat rings ensure perfect tightness for a longer service life and are replaceable. Certain high temperature and high pressure valves have seat rings that are either integral with body, or seal welded as per recognized practice and procedure for maximum perfection and safety.
JV Gate Valves are equipped with specifically machined and lapped backseats which facilitates replacement of gland packing when the valves are open and/or under pressure. Availability of solid wedge, flexible wedge, split wedge and parallel wedge designs offer maximum options to client selection. Gaskets and gland packing materials are perfectly suited to service a vast range of conditions such as temperature, corrosion, erosion, pressure and vacuum. JV Gate Valves ensure smooth operation, tight shut-off, reliability, maximum safety and longer life.
---
Specifications
Size 20mm to 1150mm.
Pressure 150# to 600# or PN 16 to PN 100.
Available Body Materials WCB, LCB, WC6, WC9, C12, C5, CF8, CF3, CF3M, CF8M, PVC.
Design & Manufacture API 609, MSS SP-67, MSS SP-68.
Face to Face ISO5752 of 13th BS 5155, API 609, MSS SP-67, MSS SP-68.
End Connection Wafer / Lugged.
Test Standard API 598, ISO5208, BS 6755.
Structure Type Centre Line Pattern, Double Eccentric Pattern, Three Eccentric Pattern.
Actuation Lever, Gear, Pneumatic, Electric.
Let the Just Valves team find it for you...