Ceramic Lined & Polyethylene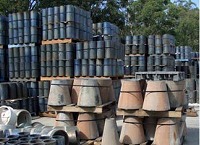 Just Valves provide a range of basalt and alumina ceramic lined piping.
Just Valves is a leader in provision of abrasion and chemical resistance materials.
Just Valves provide a complete one-stop service to industry. We supply all equipment needed, and are also available to carry out an Engineer Survey, then provide a detailed report with solutions, including preparing of design and drawings, resulting in a one-stop finalised solution for your application.
Just Valves experience in handling of design, manufacture and installation ensures expert advise and service in the abrasion and chemical resistance field in all applications and Industries.
Just Valves also specialise in fabrication of polyethylene pipe work.
Our services include:
Fabrication of polyethylene pipe spools
Manufacture of sweep bends from 25mm up to 1200mm outside diameter
Manufacture of segmented bends up to 1200mm outside diameter.
Manufacture equal and reducing butt welded tees up to 1200mm
Manufacture pipe fittings up to – 1200mm
Supply of butt, electro-fusion and compression fittings
Fabrication of polyethylene plate work and tanks.
Just Valves fabricate to client drawings or develop spool drawings from client base design data. Alternatively spool drawings can be produced from site measurements. We maintain a large stock of materials which allows commitment to prompt delivery. Extensive fabrication capacity allows larger projects to be processed within excellent time frames.