Expansion Bellows - Non Metallic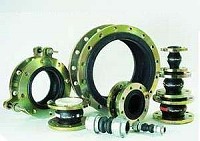 Rubber Types
Flexible rubber joints can be manufactured from a range of Elastomer materials including: Chloro Butyl EPDM Hypalon* Natural Neoprene Nitrile (Buna-N) The joints may consist entirely of one type of rubber or a rubber combination with one type as inner ply and a different rubber as the outer cover. The selection depends upon a variety of factors including temperature and the medium to be conveyed.
Elastomer
Common Name
Chlorobutyl
EPDM / EPT
Hypalon
Neoprene
Nitrile /
Buna-N
Gum /
Natural
Chemical
Name
Chloro Isobutylene Isoprene
Ethylene Propylene Polymer
Chlor Sulfonated Polyethylene
Poly Chloroprene
Butadiene
Acro-Nitrile
Polyisoprene
ANSI/ASTM
D1418-77
CIIR
EPDM
CSM
CR
NBR
NR/IR
Hardness
Range: Duro A
40-75
30-90
40-95
30-95
30-100
30-90
Specific Gravity
of Base
 0.92
 0.86
 1.12
 1.23
 0.98
0.93
 Temperature ˚C
– min service –
max service
 -25 120
 -30 150
 -40 135
 -25 105
 -35 115
 -30 85
Strength
The spherical or globe shape is four times as strong as a cylindrical one. Internal pressure exerts itself evenly in all directions within a globe and so distributes the forces evenly over larger area. The spherical design imposes thrust on pipe lines and equipment when pressurised.
Flexibility
The globe of the rubber joint is E.P.D.M. precision moulded. It requires little force to move and allows maximum deflection, elongation and compression. Its resiliency minimises hydraulic shock or "hammer" in any system.
Durability
An important factor in the long lasting efficiency of the rubber joint, is the use of floating steel flanges. On installation a maximum of one thread only should protrude beyond the face of the flange. This prevents possible damage to the body under operating conditions. Steel flanges gives more rigidity to the flange connection than that delivered by conventional rubber expansion joints.